Study Abroad and in the Field
Go beyond the classroom to make biology come to life.
Adelphi in Australia
Summer 2017
This faculty-led study abroad focuses on field-based research and emphasizes exploring the incredible biodiversity of the Great Barrier Reef and the Australian rain forest (the Wet Tropics). It is offered both by the Biology Department and the Environmental Studies Program and is structured into two different courses: an introduction to coral reef and terrestrial ecology, geology, and oceanography (for students with limited science background), and an advanced course aimed at majors and graduate students in the respective departments.
» Learn more about Adelphi in Australia
Paleontology in Utah
Passed: Summer 2016—look for future offerings
» Read about their exciting discovery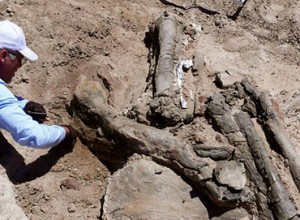 Students traveled to Utah with Adelphi faculty to participate in an ongoing research program involving excavation and study of dinosaur bones and footprints.
Students had the opportunity to experience wilderness, acquire technical skills relating to excavation, survey, mapping, anatomical identification, biological interpretation, and geologic observation. They  visitedlocal National Parks to understand the geologic and evolutionary history of the region.
» See the full course syllabus and trip details (PDF)
» See course schedule (PDF)
---
Adelphi offers many additional study abroad opportunities that provide students with global competencies in order for them to be able to succeed, take leadership positions, and be agents of change in today's complex and interdependent world.
» See more study abroad options