M.S. in Biology: Biotechnology
Explore the growing field of biotechnology with our M.S. program.
Biotechnology is a dynamic and growing field in which the discoveries of modern biology are applied to solve problems in medicine and agriculture. You can explore this field as a concentration to the M.S. in Biology.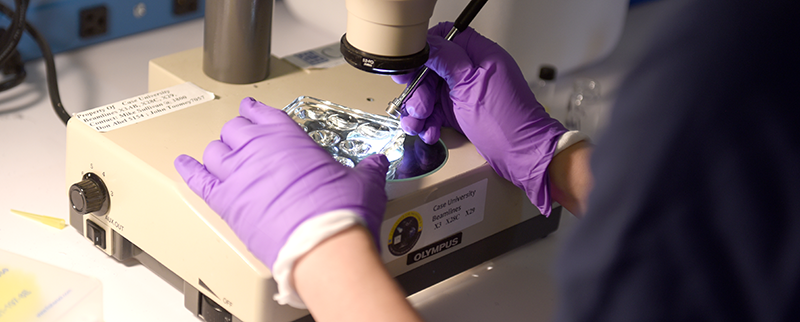 WHY SHOULD I ENROLL IN ADELPHI'S Biotechnology PROGRAM?
The unique course of study provides a solid foundation in the sciences with training in business to give students the expertise to succeed in both scientific and business environments, including universities, hospitals and the pharmaceutical and biotechnology industries. The program includes critical training in laboratory safety, research ethics and 21st century instrumentation and techniques. The required internship offers invaluable firsthand experience.
You can receive biotechnology training by:
Combining training in science and business with an internship to provide the most in-depth preparation for work in the biotechnology industry
or
Taking relevant courses such as Introduction to Biotechnology. This approach provides some background in biotechnology to help you decide if this field is the right fit, without the business courses and internship.
WHAT WILL I STUDY IN THE M.S. IN BIOTECHNOLOGY PROGRAM
The graduate biotechnology program offers two tracks: a research thesis track or a scholarly paper option.
» View course requirements for the M.S. in Biology: Biotechnology, Research Thesis track
» View course requirements for the M.S. in Biology: Biotechnology, Scholarly Paper track
WHAT WILL THE BIOTECHNOLOGY PROGRAM COST?
The Master of Science in Biology: Biotechnology is a 33-36-credit program and carries the per-credit cost of $1,210 for graduate study in the College of Arts and Sciences.
» View tuition and fee information
HOW DO I APPLY to AdelPhi?
Students interested in the biotechnology concentration must first be admitted to the M.S. program in Biology through the regular application process and complete one semester (12 credits) of graduate courses. 
Admission will be based on previous record, performance at Adelphi, and potential for success in biotechnology.
» Apply now to Adelphi's M.S. in in Biology: Biotechnology program